I have a lot of reviews to catch up on. I didn't have the time to actually write a proper review because I was busy preparing for one of my favorite days of the year. So now I am slowly but surely going to write everything I have to review in the next week. My favorite playlist is playing, so let's start.
Okay, let's start by saying that I am that person who starts listening to Christmas music in November. As December approaches, I become quite obsessed with everything red, gold and dark green, I turn into a walking Christmas impersonation. (That's not entirely correct, but I hope you get the idea.)
So, this year I decided to transfer my Christmas spirit needs into a bookish form. What does that mean? Not only I did listen to Christmas music and watched every movie with a hint of festivities in it, but I also dedicated part of this moth to read a few books with a Christmas theme. And the second one was Dash & Lily's Book of Dares .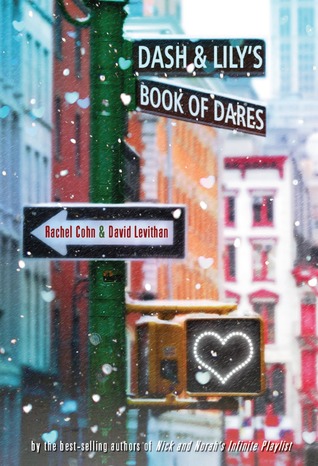 Dash and Lily's Book of Dares is a YA contemporary novel set at Christmas in New York. Here's what is written besides the plot summary in its Goodreads page. "Rachel Cohn and David Levithan have written a love story that will have readers perusing bookstore shelves, looking and longing for a love (and a red notebook) of their own." And they did just that. After I read the last word I wanted to go into a library and find a red Moleskine some cute guy left for a girl to pick it up a.k.a. me. It might sound creepy, but it is far from that.
"I've left some clues for you.
If you want them, turn the page.
If you don't, put the book back on the shelf, please."
Lily is a sixteen years old girl who absolutely loves Christmas. She has lived in New York her entire life and this year will be the first Christmas she will celebrate on her own. Her parents left for Fiji and her brother, even if he's at home, is going to spend every minute with his boyfriend. Her brother has decided,
with the help of some family members, to find her sister an ideal boyfriend. This is why they created a list of dares written in a red Moleskine notebook and left it in her favorite bookshop near her favorite book. Lily doesn't seem to be really convinced about this method, but whatever, no one will pick it up, right? Wrong.
Dash is a boy who loves reading and hates Christmas with all his heart. This year in particular he avoided to celebrate by playing a trick to his divorced parents. To her mother he said he was with his dad, to his father he said he was with his mom. A few days before Christmas Dash decided to peruse the aisles of his favorite bookshop and near one of his favorite books he finds a red notebook. He is curious and decides to accept the dares written inside.
This is the start of a back and forth correspondence between the two of them. "Gallehault was the book" would say Dante Alighieri. Will they fall for each other? Only time can tell. They keep on talking about their dreams and their life without never seeing each other. At the moment they will meet, there is the question which keeps on invading their mind. Could their in-person selves possibly connect as well as their notebook versions? Or will they be a comic mismatch of disastrous proportions?
"The important people in our lives leave imprints. They may stay or go in the physical realm, but they are always there in your heart, because they helped form your heart. There's no getting over that."
The story is very original and lovely. It is a fun read and we get to see both of their perspectives. The chapters alternate as there is Lily or Dash in action.Rachel Cohn wrote Lily's chapters and David Levithan wrote Dash's ones. They actually really made this book through a correspondence of sorts. They emailed a chapter to the other one and the receiver would wrote the next one. And thus the story was created. It is a great idea, so we really get to experience two different point of views and different writing styles.
The witty way it was written was most likely designed for teenagers and young adults, and definitely works for getting them to have a giggle at the book, story and characters. It may not be everyone's cup of tea, but if you're looking for something very lighthearted and lovely this is it. It will make you giggle at your cup of hot chocolate I'm sure. It is highly enjoyable.
The first part in which they start to dare each other is quite intriguing, but then the plot line fell a little bit flat for me. I would have liked more action and less i-don't-know-what-i-am-doing type of characters. Dash and Lily's personalities were realistic and sweet, but they missed that spark which makes you totally love a character. I loved their adoration for literature and writing, and I was fond of Dash's old soul. Another character I felt very attached to was Lily's aunt. The lady was adorable and witty, and I adored her sense of humor. I also enjoyed Boomer, Dash's best friend, andLangston, Lily's gay brother. They were funny and intelligent.
There were also a lot of elements which could give the story a lot more of complexity. The red notebook, the scavenger hunt, the dog attacking them, the library, could all be more developed into the plot. I know it is supposed to be a light read for teenagers and such (and even adults if I can say so myself), but a little more development I am sure wouldn't have hurt nobody.
There were also many quotes note of jotting down in a real notebook. These ones were my favorites.
▶ "I want to believe there is a somebody out there for me. I want to believe that I exist to be there for that somebody."
▶ "You think fairy tales are only for girls? Here's a hint - ask yourself who wrote them. I assure you, it wasn't just the women. It's the great male fantasy - all it takes is one dance to know that she's the one. All it takes is the sound of her song from the tower, or a look at her sleeping face. And right away you know - this is the girl in your head, sleeping or dancing or singing in front of you. Yes, girls want their princes, but boys want their princesses just as much. And they don't want a very long courtships. They want to know immediately."
▶ "I was attempting to write the story of my life. It wasn't so much about plot. It was much more about character."
NOTE. There is going to be a sequel coming out in 2016!! I really enjoyed this story, so I am eager to know what future Lily and Dash are going to have. It is called The Twelve Days of Dash and Lily.
Final Rating:

★

★

★