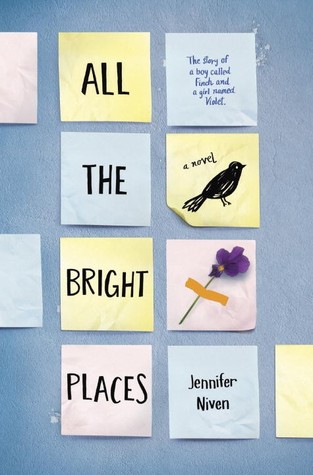 Book Title/Author: All The Bright Places by Jennifer Niven
Publisher/Year: Knopf, 2015
Genre: Contemporary Fiction, YA, Mental Hillness, Romance
Other Books From Author:
A list of her other books!
See more at:
@Jennifer Niven
A boy named
Theodore Finch
who is fascinated by death. Everyday he thinks about new ways of dying and scientific facts about every single suicide methods. But everyday he also finds a new reason to stay alive and awake.
A girl named
Violet Markey
who is a girl trying to escape from her past by diving directly into the future, counting the days till graduation but not living actually any of them.
Both have a
past
which keeps hurting them. Theo's dad was a violent father and other students started to call him a freak and V's sister died in a car accident last Spring while Violet survived.
They meet on the ledge of the bell tower at school, it's unclear who saves whom. And when the unordinary pair teams up on a class project to discover the "natural wonders" the their state, they go, as Finch says, where the road takes them: the grand, the small, the bizarre, the beautiful, the ugly, the surprising– just like life. Soon it's only with Violet that Finch can be himself- a bold, funny, live-out-loud guy, who's not such a freak after all. And it's only with Finch that Violet forgets to count away the days and starts living them. But as Violet's world grows, Finch's begins to shrink.
I heard very mixed reviews on this book. While I actually enjoyed it, I understand why some may find it irritating or annoying. I guess it's not a book for everyone, but I respect others' opinions.
Here's what I think about it and why I'd give it
3.75 stars
.
I realized pretty early while I was reading this book that the characters were quite stereotyped. They both dealt with a lot of crap in their life and they did not deserve it, like everyone else who handles these illness. In fact, that's what I think: their mental issues and suicidal thoughts were louder in the story than the characters themselves. I wasn't reading about a story of a boy and girl who struggle with their life. I was reading about how mental health afflicted a boy and how an unexpected death changed a girl's life forever. The main protagonists were their illnesses. There wasn't a lot more than their depression.
"We are all alone, trapped in these bodies and our own minds, and whatever company we have in this life is only fleeting and superficial."
I think the main issue I have with this book are
the grown-ups
in it. They literally did nothing to help Theodore or Violet. Even though I guess Violet was in need too, I absolutely hated how no one seemed to help Theodore. Throughout the whole book I wanted to reach in and help him. I was like give him a rest already. I HATED all those idiots at school calling him a freak, it was annoying and absurd. The parents and teachers never seemed to do something or enough.
A detail I actually really loved when
Theodore
described his different personalities. I was totally interested in his thoughts and in the fact that everyone can be whoever he wants to be. I realize that was a consequence of his mental illness, but I felt a connection with that idea. I would have loved to know more about the real Theodore Finch though. It always looked like we were only seeing the ill one or the one in love with Violet. The story seemed only to highlight only those two aspects of his life even if there is supposed to be a lot more in it. That was a pity. I was feeling so bad for him and I was waiting for someone to save him from his own mind.
Violet was kind of okay throughout the whole book. I liked her, but I was feeling something was missing. Maybe I didn't have a strong connection with her or she was just too insipid if you know what I mean. She was also too whiny if I really think about it. And she could have helped him if she wanted to, of that I am sure. She was a bit naive regarding that aspect. She could have contacted his parents before, asked her own ones to help him, call a counselor or someone else, I don't know, but she should have done something for sure. Violet seemed to live almost in a different world. She looked like a oh poor me type of girl and, well, I wasn't really fond of it. She was a sad girl missing her sister, nothing more.


Their
relationship
was lovely, but I thought there was something off in my opinion. I loved how she felt a shock in her hand and veins, I loved how he looked at her. Their trips to discover the wonders of Indiana was great and I was enjoying a whole freaking lot. It was awesome and I could definitely see why those were their bright places. Those were the places they found themselves at their best and happy. They were living those
perfect days
they were aching for.
As I have already said, I was disliking her behavior very strongly. I can't understand why she didn't realize he was in need of help. Violet could have done SO much more.
Also, I loved the sweet nickname he gave her. Ultraviolet Remarkey-able. I loved it.
I also loved their early correspondence via Facebook. They were talking to each other using quotes from Virginia Wolf's books and it was so cute.
"I learned that there is good in this world, if you look hard enough for it. I learned that not everyone is disappointing, including me, and that a 1,257 bump in the ground can feel higher than a bell tower if you're standing next to the right person."
"The thing I realize is, that it's not what you take, it's what you leave."
I absolutely cried my heart out during the last 50 pages.
Tears
were running down my cheeks
without stopping
till I reached the very end of the book. That's to say that Kleenex are needed, A LOT of them. You've been warned.
I kind of expected that ending at some point, but I wasn't ready. I wasn't ready AT ALL.
I'd recommend it if you would liked to read about mental illness and romance and want to see what all the hype is about. I know someone might have told it isn't worth reading, but I think it is important to have our own opinions, so I suggest you to read it and don't be influenced by other people's reviews. Enjoy your book and it is okay if don't like it lol.
"You are all the colors in one, at full brightness."